Server Rack & Electronics Crating
THE FULL SPECTRUM OF CRATING SOLUTIONS
Protecting Sensitive Electronics on Their Journey
Craters & Freighters Richmond has solutions for all your electronics shipping needs. This includes hi-tech equipment, sensitive electronics, lab testing, server equipment, and IT assets. Whatever electronics or IT devices you have to ship, we can handle them. Items that are too sensitive, too big, too heavy, or too valuable for other providers are easy for us.
Our crating and shipping specialists work with various local industries that depend on the safe, efficient shipping of electronics for their business to run smoothly. From data centers to Fortune 500 companies, our team will cater to any of your electronics shipping needs. 
We'll manage your assets from start to finish:
Telecommunication equipment
We assess each IT item's characteristics to choose the optimal packing approach. Our in-house engineers pull from an array of advanced packaging technologies, including anti-static wraps, cushioning, and foams to prevent electrostatic discharge from harming the item's components. 
We know that you're relying on us for a high level of experience and professionalism; you'll get that and more. Our Richmond IT shipping company has everything necessary to ensure your assets get where they need to go on time and in working order. 
Let us help you and your business with your electronic packaging and shipping project; we'll stay within budget and surpass your expectations.
Tech Equipment Handling Expertise
Sensitive electronic pieces such as telecom devices and server racks must meet a specific standard for safe shipping practices and methods. They have various fragile components that are more susceptible to damage. We'll keep them safe. 
Some of the biggest names in technology trust us to pick up, pack, crate, ship, and deliver their heaviest, largest, most delicate, and highest-value electronic assets.
Our IT packaging team uses highly effective advanced protection protocols to design and engineer custom crates and packaging that will perfectly support your asset throughout the shipping process. 
Whether you're looking for domestic or international shipping, we'll get you taken care of with thoughtful, deliberate care and techniques.
Server Rack Crating & Shipping
Responsibly crating and transporting your server racks is vital to their efficacy. Our team creates meticulously designed protection for these demanding projects. We've successfully moved thousands of server racks and understand the complexities involved. 
We have comprehensive solutions, high-quality materials, and decades-long experience to determine a unique shipping plan for your assets. When necessary, we'll use corrosion-preventing products to further promote safety. 
Meeting your goals is our priority. You can trust that your server rack shipment will arrive damage-free when you ship with us.
Custom Crating & Packaging for Your Electronics 
When working with IT devices and electronic equipment, crating and packaging design can't be generalized. Our custom crating team has the advanced software and knowledge to design crates to fit your asset perfectly, understanding that there is no room for guesswork. 
We will outfit your custom crate with essential tailored packaging that cushions and supports your item while in the rigors of the shipping stream. Our equipment and materials are of the best quality, and our teams are ready to help you with even the most challenging projects.
On-Site Crating
When you can't get your sensitive, fragile, or oversized electronics to us, we'll come to you. Our on-site crating team has the technology, materials, and equipment to go to your facility to design and build the crate and packaging your asset needs.  
Don't put your item at risk by trying to transport it without the necessary skill set. Let us take that job on and keep your valuable asset safe.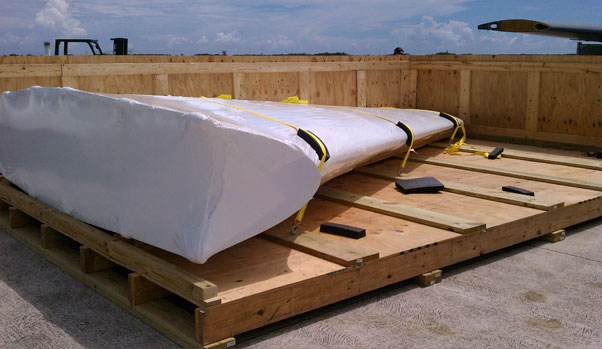 Special Care for Computer Equipment
Assessing the fragile components of your computer equipment helps us design the optimal protection. Our assessment tells us what kind of padding is needed to dampen vibration, the specs of the item tell us how to build its container, the sensitivity tells us what packaging solutions will keep it safe. 
We never leave anything out when it comes to the factors that determine the ultimate solution for you. Across the country or around the world, you can be confident we use the best packaging technologies to prepare your computer equipment for safe shipment.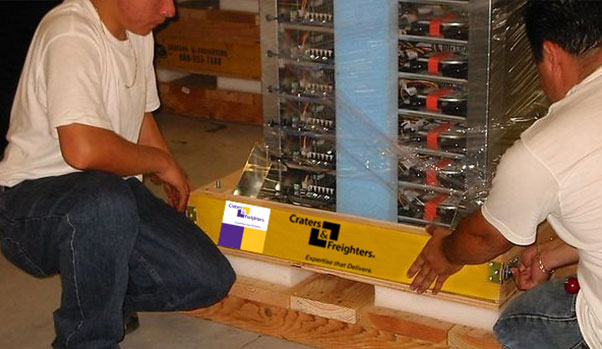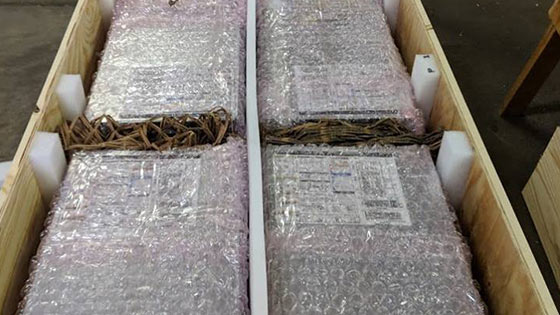 Electronic Shipping Solutions & Options
At Craters & Freighters Richmond, we have an expansive network of over 65 nationwide locations and global connections. This keeps your asset within our reach at all times. We're industry leaders because of our integrity, our expertise, and our vast shipping solutions.
Some of our electronics shipping services and options include:
You won't find a more dependable and knowledgeable logistics team or a more sophisticated, helpful customer care team. When you're looking for the best shipping company in Richmond, you're looking for us. 
Get a fast, free, no-obligation cost estimate from Craters & Freighters Richmond.
Provide some information on your needs and we'll get back to you right away with a figure you can use in your planning.
Proudly Servicing Richmond and Central Virginia.